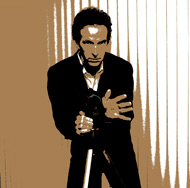 Download a high resolution photo of Scott
A bit about Scott Miller from Bob Lloyd's foreword...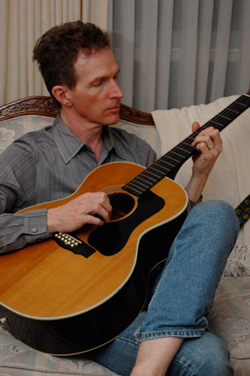 Scott Miller, who was born in nineteen and sixty—just two years before Dylan's recording of "Man of Constant Sorrow" marked Bob's first appearance on a Miller list—grew up in Sacramento, California. Miller's father recorded his son singing the theme from the TV show Have Gun—Will Travel when Scott was four years old. Soon Miller was making up his own songs to sing. By age nine, he was taking folk and classical guitar lessons from a man named Tiny Moore, who had played with Bob Wills.
By 1971, Miller had switched to rock, and he was in his first band just a year later. Throughout his childhood, he had been interested in anything having to do with recording, and when he turned fifteen he finally got the TEAC four-track machine he'd been coveting. Like many others his age, Scott Miller loved the Beatles, the space program, and those shows that counted down to the number one song for the week. He started making his own countdown lists when he was twelve.
Many people find that the music they listened to during a formative period in their lives has become their music, and they no longer feel the urge to keep up with what's new, year in and year out. Miller, too, went on to college, got jobs in the non-music world, got married, started a family—but somehow he never stopped finding ways to play, and listen to, and talk about music... He's had two major bands—Game Theory in the eighties and The Loud Family in the nineties—and he's put out more than a dozen albums.
Sometime after the release of the Loud Family and Anton Barbeau album What If It Works? in 2006, Miller began to stay up after putting his daughters to bed to make CDs from the annual lists he'd maintained since his youth. As someone who never hesitates to set the bar a little higher, he conceived of using this CD-making project as a springboard to an even more ambitious idea, one that could connect with a like-minded audience. He approached Sue Trowbridge and Joe Mallon, his longtime friends and supporters through the Loud Family website and 125 Records, to suggest a project to write about each of the last 50 years in popular music... He called the new blog "Music: What Happened?" and published the first list (for 1966) on the website on May 26, 2008. Over the course of the next 16 months, he responded to requests for all 50 years, ranging from 1957 to 2006. The publication of this book draws the 50 blog entries together (plus three bonus years: 2007, 2008, and 2009) in a single, remarkable volume.
Don't miss this interview with Scott by Matthew Perpetua at Fluxblog.org.